ABOUT OUR MEMBER ACHIVEMENTS
Honoring the Middleton Award Recipient:
RAJ GOYAL, MD - Congratulations
Dr. Raj K. Goyal is staff physician at the V A B H S an n d Mallinckrodt Professor of Medicine,
Harvard Medical School. He earned his M.B.B.S. from Amritsar Medical College, Punjab University
and MD (post-doctoral medical) degree. from Mualana Azad Medical College, University of Delhi.
Following postdoctoral training at Yale University, he joined Baylor College of Medicine and the University of Texas Southwestern Medical School. In 1978, he became chair of the Division of Gastroenterology at the University of Texas in San Antonio. In 1981, he joined HMS and became
chair of the Division of Gastroenterology at Beth Israel Hospital. He later served as
Associate Chief of Staff for Research and Development at VABHS from 1995-2005.
Dr. Goyal is an eminent gastroenterologist and an investigator whose research has provided
important advances in our understanding of esophageal and gastric physiology and diseases
including Barrett's esophagus, enteric neurotransmission and the physiology
and pathophysiology of esophageal and gastric motility. He provided the first evidence
for the existence of muscarinic receptor subtypes. His work forms the
basis of many current concepts regarding the regulation of esophageal sphincters,
esophageal peristalsis, esophageal nocioceptors, gastroparesis and Barrett's esophagus.
Dr Goyal has served on numerous editorial boards and was editor-in-chief of Gastroenterology from 1986-1991. He was the Founder President of the American Motility Society and is the recipient of its Distinguished Achievement Award.

The Middleton Award

VA established the Middleton Award in 1960 to honor William S. Middleton, M.D., an educator
and physician scientist who served as VA's chief medical director from 1955-1963. This award is BLR&D's highest honor for outstanding achievement in biomedical research and is
given to a senior VA investigator for major achievements in areas of prime importance
to VA's research mission. The award recognizes Dr. Goyal's exemplary record of involvement
in, and service to, the VA and to the biomedical profession, as well as his seminal scientific
and clinical contributions to the most important advances in our understanding of esophageal
and gastric physiology and clinical disorders including Barrett's esophagus, gastroesophageal reflux disease (GERD), diffuse esopageal spasm, esophageal pain, and gastroparesis. His work has had a
broad impact on the clinical care of Veterans and the population at large. IMANE is very proud of
your academic achievements.

DINESH PATEL, MD
Congratulations

Dr. Dinesh Patel, our past president and founder member of IMANE recently contested for the election
of Town Meeting Member of Lexington winning the election by a landslide. This is indeed an additional achievement to his numerous achievements in the medical field.
Kudos to Dr. Patel.
ONALY A. KAPASI, MD
Congratulations - There is a life beyond our medical practice
Visit: Mind's Eye for excerpts of his book
Onaly A. Kapasi, MD, a Boston orthopedic surgeon who has served IMANE on various calls of duty
including serving as IMANE's 26th president has just, this past June published his first book, a book of
his personal poems, Mind's Eye - A Vision into the Depth of Consciousness. An initial book inauguration
took place at a his residence in the company of very close friends and family, followed by an
inauguration at the AAPI Annual Meeting in San Antonio by the Minister of Health and Law of
Himachal Pradesh, Hon. Kaul Singh. The proceeds from sale are donated to medical charity.
The book is available in the USA at Amazon, Barnes & Nobles, and at retail bookstores and also
abroad as dust cover hard copy, soft cover, e-book and exclusive leather bound at a premier price.
Dr. Kapasi was invited at a writer's forum in Texas, and book reading in Victoria, BC, Canada. . It is scheduled for a showing on October 8- October 12, 2014 at the prestigious Frankfurt International Book
Fair.
The book has received 5-star reader reviews and the sales are encouraging - a reader who admits not
having read poems, admits that he read the poems over and over, others say his book is a good read. His second book, a story based on Kashmir he believes may be on the stands by early next year.
Mind's Eye is available through IMANE here in New England, proceeds thereof will go to IMANE's charitable missions.
Dr. Kapasi has served many charitable mercy mission - a more medical charity mission in Mandi,
Himachal may be seen on the attached You tube video. To view his passion for charity visit Oni service
and a recent interview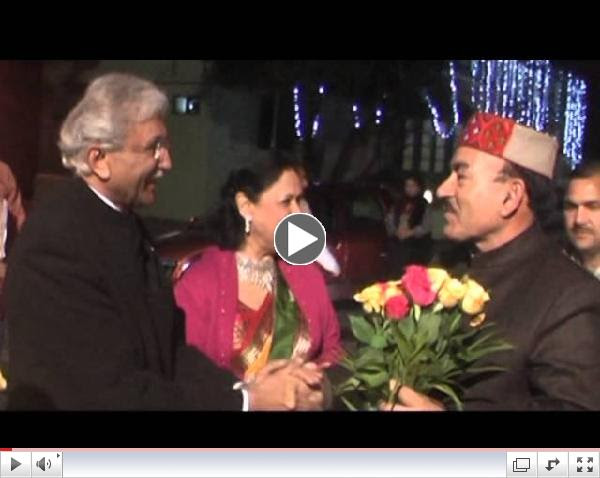 He is the U.S.A. liaison for the 2014-15 Global Health Summit to be held in Mumbai.2015 Global Health Summit
Best wishes Dr. Kapasi, "you walk the walk".
Congratulations Past Presidents
Chander M. Kapasi, MD, MPH
Janine Saldanha, MD
Two of our past presidents were recognized as "Women of Influence" by Lokvani.
Dr. Chander Kapasi LOKVANI 1
Dr. Janine Saldanha LOKHVANI
Please click on the above links (Lokvani 1 and Lokhvani) to read the respective Lokvani articles
*******************************************
WE MOURN OUR LOSS
NASIR KHAN, MD
Our 2009 president Nasir Khan, MD recently passed away - IMANE mourns the loss of a friend and
leader. IMANE offers heartfelt condolences to the Khan family.
Fund raiser for an Annual Memorial Lecture honoring Dr. Nasir Khan sponsored by Newton Wellesley Hospital, MMS, Bournewood Hospital and IMANE is underway. Please contribute generously to support this worthy cause.
Please forward your individual donations for the annual memorial lecture to IMANE, year marked for the Annual Memorial Lecture.
Adieu good friend